Sheer
Shades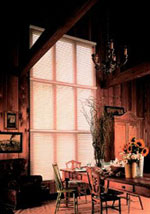 Silhouette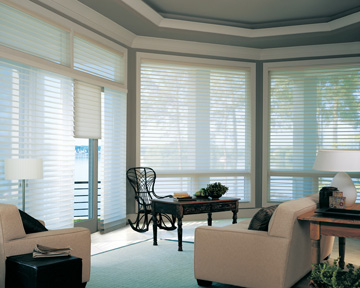 Sheer Brilliance

Silhouette window shadings combine the light control of a blind, the function of a shade, and the softness of a curtain in one proprietary design. The soft, adjustable fabric vanes are suspended between two sheer fabric facings going beyond traditional shades with an infinite range of light filtration. Completely open, the view of the outside world is subdued. Partially to completely closed, there's a softly diffused glow with opalescent translucency. When raised, the entire shading disappears into a sleek headrail.

Style. It's what holds a room together. What gives it a personality. A "look." Even the endless play of light and shadow throughout your home reflects your style of living. Which is why each room should begin with Silhouette window shadings. They provide a backdrop of understated luxury. And they do it while performing wonders of light control.

Silhouette window shadings from Hunter Douglas Window Fashions feature soft "colored" fabric vanes suspended between sheer facings. Available in dozens of colors and multiple textures.