Retractable Screen Doors - FAQ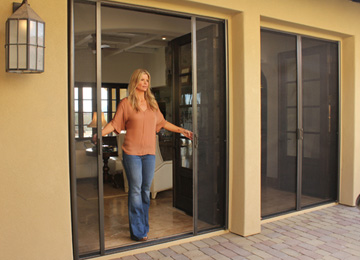 How does a retractable screen door work?
Think of them as a 21st century advancement on traditional roll-up blind technology. An aluminum housing stores the rolled screen mesh. When you pull on the handle, the screen rolls out onto a guided track. So these screens are there when you need it and gone when you don't.

Why should I choose a retractable screen door over a traditional screen door or storm door?
Have you ever carried groceries through a screen door and gotten caught on the door handle or had the door slam you in the back? That won't happen with a retractable screen door. The screen retracts into a housing when not in use, allowing for clear and unobstructed pass-through.

Are these doors safe for children and pets?
Patent pending fluid retraction devices keep little ones safe by slowing the screen when closing eliminating the danger of trapped fingers or a "slamming" return. Other models that don't have a integrated braking device have pull bars that accelerate into their housings as they close. A child's fingers in the wrong place at the wrong time could easily be bruised by an accelerating retractable screen.

Will retractable screens work on sliding patio doors?
Yes. They are often a better choice than typical sliding glass and screen panels which obstruct outdoor views.

Who is the manufacturer?
Universal Screens of Jacksonville, FL. Their goal is simple - to engineer and produce best retractable screen systems on the market. Every screen is custom manufactured to precisely fit your door, comes with many premium features, a limited lifetime warranty and is proudly made in the USA.

What exterior finish will come on my screen system?
Powder coating - it looks like paint, but it's tough as nails and environmentally friendly. Powder coated finishes are resistant to heat, corrosion, abrasion, impact, fading from sunlight and extreme weather.

And what about colors to match my door frame?
There are 16 standard powder coated color choices, 11 wood grain colors and over 600 additional custom colors to choose from.

What types of screen mesh are available?
A standard insect mesh is offered in grey or charcoal. We also offer SuperScreen, available in black or white. Solar Screen in black is also available.

What's SuperScreen?
SuperScreen mesh is three times stronger than standard fiberglass screen and comes with a 10 year limited warranty against manufacturer's defects. For high traffic doorways or homes with children or pets, we recommend SuperScreen.

How cost effective are retractable screen doors? Retractable screens may cost slightly more upfront than conventional screens but due to their durability they can pay for themselves over time.

Do these retractable screens require maintenance?
They are virtually maintenance free. However we do have some basic tips to help prolong the life of your screen and keep it in pristine condition. See our maintenance tips for more information.

What if someone or something runs into my retractable screen?
Universal Screens retractable screen systems are child and pet resistant and nearly indestructible. When the screen is pushed in, it gives in to the pressure and when the pressure is released, the screen returns to the taut position.

Should I do something after an accidental impact?
Carefully inspect the screen and aluminum components for any damage. If there are any creases in the mesh gently smooth them out by hand. If you need professional service please contact Window Covering Outlet.