Retractable Screen Doors - Maintenance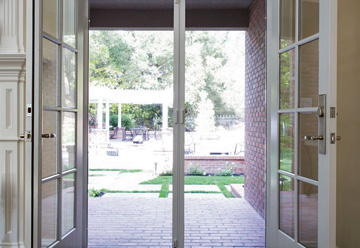 One of the benefits of a retractable screen door manufactured by Universal Screens is that they are virtually maintenance free. However we have a few tips to minimize normal wear and tear.
Keep the rails free of dirt and debris.
Do not scrub, pressure wash or use any harsh chemicals on your retractable screen. This could cause damage to the powder coating and screen material.
Occasionally spray the tracks with an approved dry silicone spray, which can be purchased from Window Covering Outlet.
To clean the frame or screen material use a soft cloth and a mild dish soap like Ivory or Dawn mixed with warm water.
When not in use keep the screen retracted in its housing.
Retractable screens are not meant to be used in high wind conditions. During these conditions the screen should be in its housing to prevent damage.
Avoid pushing on the screen material to open the doors. Use the handles to prevent the screen mesh from wrinkling or tearing.
Never try to make repairs to the screen system yourself. All Universal Screens retractable screen systems are installed by certified installers. Please contact Window Covering Outlet for any needed adjustment or repairs.